About the Owner
ROAD•N•RACE was founded and is owned by Peter Shadowen. Peter started "wrenching" on cars years before he even earned his first driver's license. His racing passion quickly followed.

An ASE certified Master Technician, Peter has been refining and expanding his knowledge about what makes a car tick (and go faster!) for over 20 years. And while the mechanics of things come naturally to him, his ability to visualize solutions has proven invaluable to his customers.

Peter began his racing career in 1992 when he completed his first SCCA (Sports Car Club of America) driving school in a borrowed Formula Vee and his second in a Volkswagen Rabbit he prepared himself. In the years that followed, Peter continued to race the Rabbit, as well as an assortment of other race cars – a 5-series BMW, a Volkswagen Golf, a Volkswagen Scirroco, a Mazda Miata, a Mazda RX-7, and a BMW MZ3 Coupe. Several of these were run over the course of a racing season, resulting in several Regional SCCA championships. Peter was also honored by the local SCCA Region as Mechanic of the Year and Regional Driver of the Year.

In 2005, Peter began racing the SCCA National series in the GT-Lite class driving a full tube-chassis Honda CRX he largely built himself. Peter scored multiple national race wins, divisional championships and 5 top 10 finishes in his 5 appearances at the SCCA National Championship Runoffs. In 2008, he brought home a 2nd place finish, and was awarded National Driver of the year in 2008 by the Florida Region SCCA. In the 2010 race season, Peter set several track records, and again clinched the Divisional Championship. At the 2010 Runoffs, Peter secured the pole position by shattering the previous track record, and went on to bring home The GTL National Championship at Road America!

However, no quitting at the top for this born racer!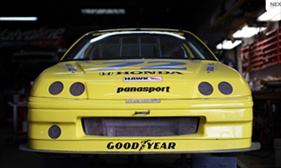 ROAD•N•RACE
1966 W 9th Street
Riviera Beach, FL 33404
561-845-6640